We're here because we love what we do…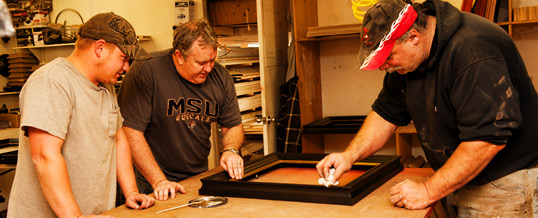 Bitterroot Frames Inc was established in September of 2013. Initially, Zach Cheetham partnered with Gary Lynn Roberts to set the foundation of what would become a manufacturing company based on designs and finishes that artists around the country felt a need for. Over the years, we developed profiles and finishes based on feedback from all of the clients and friends we have made. Once established as a frame manufacturing facility with nationwide recognition, we then added our Publishing business into the mix. Since we had established so many great relationships with top name artists, we felt it only made sense to add the wide format printing services to our plan.
Along the way, Bitterroot Frames and Publishing has grown from 2 or 3 core customers to several hundred based mostly on word of mouth and good customer service. In 2017, Zach Cheetham purchased the company and is now the sole owner. Zach and his wife Nicole have continued to grow the company by establishing a small gallery of original art and a successful show in Great Falls called Montana Miniatures. Zach spends most of his time with company management, deliveries, and new product development. Nicole manages all of the company photography, printing and publishing departments. We have gained so many customers over the years but we have really been blessed to call most of them our friends.
Zach and Nicole Cheetham are married with 2 teenage boys and live in Hamilton MT. Our plans for our new facility are completed!  The new facility include an impressive frame manufacturing shop, photography and printing shops, an upscale art gallery and much more! We are always willing to listen to our customers and welcome visitors any time!